Hey Check-In Champ, let's learn about linked attendees!
We know it's important for each attendee to have an individual account because it is how they will participate in your event!
However, we also understand the need to link accounts; where one account is considered primary.
Linked Account Features:
When accounts are linked, the pair of attendee carts will combine in the platform.
Linked attendees can bid on items, make purchases, and add donations, all to a single cart.
During checkout, either of the linked attendees is able to pay for the combined cart.
If the accounts need to be unlinked at any point, all bids, items, and donations will divide into individual carts. Cart items divide based on who initially added the item.
Please note that accounts are linked per event. If you host multiple events, attendees must be linked for each individual event.
To Link as an Attendee
Attendees can link themselves to another attendee with RSVP links for sponsor tables. Please see below for that process.
To link an attendee on a sponsor RSVP link, select "Link Attendees."
The pop-up below will appear and you will click "Search Email / Phone" in order to find the attendee you would like to be linked to. You will be prompted to enter a mobile number or email address to find the attendee's account.
Once your guest is found in the system, their name will appear. To confirm the linking of these attendees, simply click "Submit."
Please note, the original ticket holder will be considered the Primary Guest.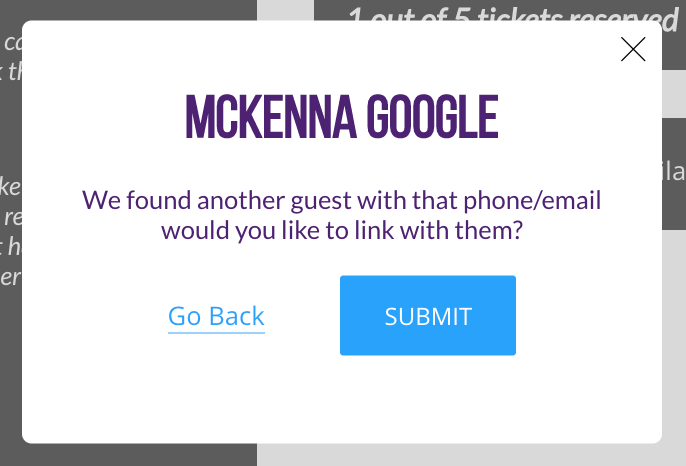 Now that you and your guest are linked, you will see this reflected on your ticket, as shown below.
If you would like to unlink from your guest, just click on the "Unlink" button!
To Link as an Event Organizer
To link attendees in the manager portal, navigate to the 'Event Check-In' tab and enter one of the attendees' names in the search bar.
Once you are viewing one of the attendee's tickets, click on the blue "Select" button underneath the "Attending With" header.
The following pop-up window will appear. Now you can click "Search/Create" to find the attendee you want to link.
Type in the phone number or email address of the user you are looking to link with this attendee. If the system recognizes their account, their name will appear and you can click the "Submit" button to confirm linking.
You will now see the attendee you chose to link listed under the "Attending With" column.