Hey Virtual Viking, let's learn about live streaming!
Live Streaming
Event.Gives offers three different ways to connect your live streaming component to the platform, shown below:
| | |
| --- | --- |
| Live Component | When |
| RTMP | The RTMP feed is most commonly used when event organizers hire an outside production company. |
| Zoom | The Zoom feed is mostly used when you plan on having multiple speakers on the screen. |
| Webcam | The Webcam feed is the quickest way to connect a live feed with a single speaker. |
If you need any assistance with these, please reach out to Event.Gives customer support!
RTMP Connection
An RTMP feed allows for real-time streaming of video, audio, and data between a server and Flash player. If your event organizer chooses to use a RTMP feed, we recommend connecting with a production or AV company, as that requires knowledge of video streaming softwares.
Once your event organizer clicks "Request RTMP Endpoint," they will view the settings under your newly created RTMP feed. The settings will show your RTMP endpoint and key, which you will copy into your streaming component outside of Event.Gives. The RTMP endpoint is the address for the server which connects your streaming hardware, software, or website to our video servers.
Please note, both the server and the key have copy buttons next to them for convenience. After this, you are ready to stream!
Zoom Connection
We suggest utilizing a Zoom stream if your event organizer would like to have multiple live speakers during your event. Our Zoom integration allows all of your speakers to enter a single Zoom meeting for your event.
You are able to push this Zoom feed through when one of your speakers is ready to go live.
How To Connect Your Zoom Account with Event.Gives
Step 1: (Event.Gives Manager Portal)
Navigate to your 'Items' tab within the manager portal to access your Virtual Live features. Under the "Video Stream Actions," you will click on the blue "Enable Zoom" button to create a Zoom stream.
**Please note that you will need to be a licensed user of Zoom to set up this integration.**
Once that stream has been created, you will see it listed as "Zoom Meeting" within the "Video Stream Actions" box. You can click on the "Settings" button beneath the feed title to set up the stream. Instructions for setting this up are laid out below:

Step 2: (Event.Gives Manger Portal)
Now that you have established a Zoom meeting in the Event.Gives Manager Portal, you will want to click on "Settings" and pull up the Streaming Keys.
This is how you can copy the Event.Gives streams into Zoom!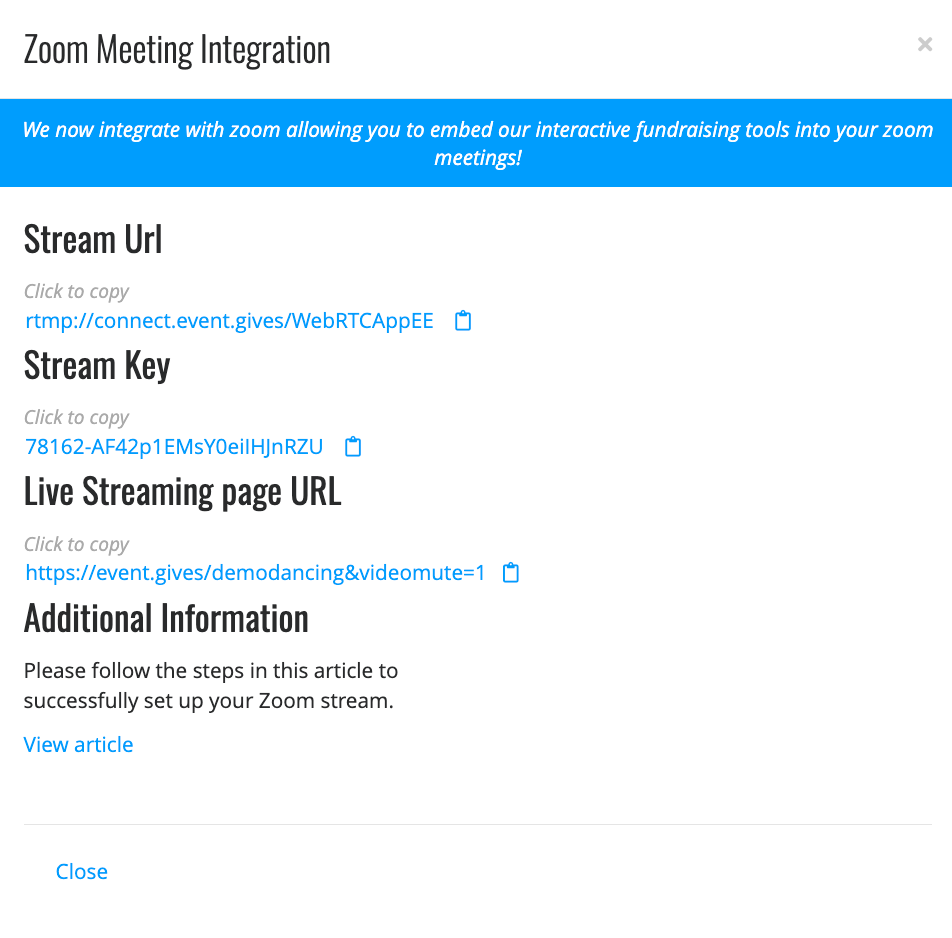 Next, you will navigate to your Zoom account.
Step 1: (Zoom) Enable "Custom Live Streaming Service" in your Zoom account under account management settings.
Sign in to the Zoom web portal.
Click Account Management > Account Settings.
Under "In Meeting (Advanced)", click the toggle next to "Allow Live Streaming Meetings."
At the bottom of the page, click the "Custom Live Streaming Service" checkbox to enable it and click "Save."

Step 2: (Zoom) Create a Recurring Meeting and connect it to Event.Gives.
1. Create a new Zoom meeting in the Zoom web portal by clicking "Schedule a Meeting."
2. Name your meeting. > Ensure you click "Recurring meeting." > I always like to take the require passcode off!
3. When you click "Save Meeting," scroll all the way to the bottom of the screen where it says "Live Streaming." Click on "Configure Custom Streaming Service."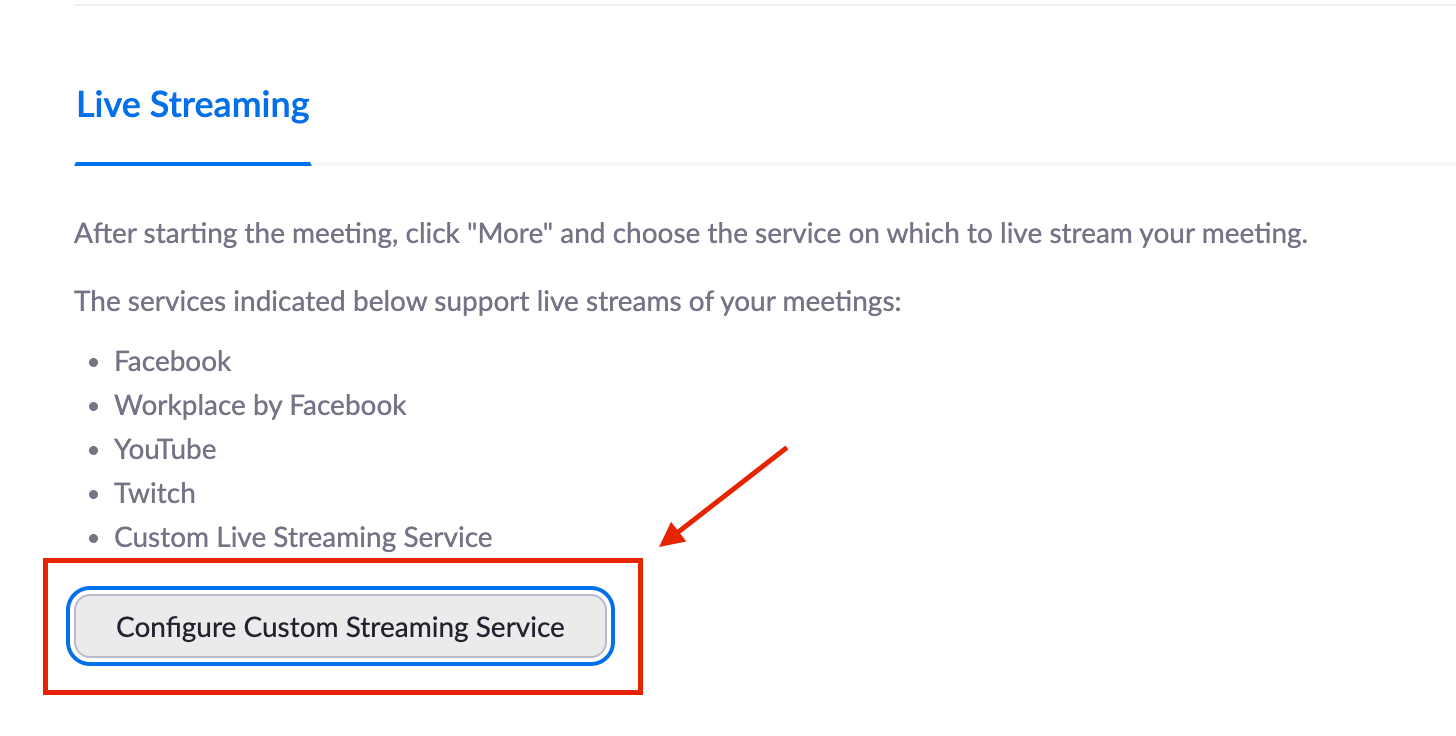 4. The pop-up will allow you to insert Streaming URL, Streaming Key, Live Streaming Page URL. This is how we connect Zoom to Event.Gives.
Step 3: (Zoom & Event.Gives)
Now we are ready to copy and paste the stream keys from the Event.Gives account into the Zoom meeting.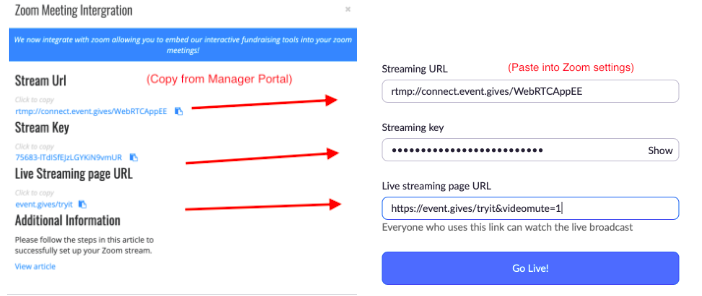 Final Steps (Zoom)
Zoom is connected! We are ready to start the meeting. Click "Start."
Once the meeting is started, you will see the screen below.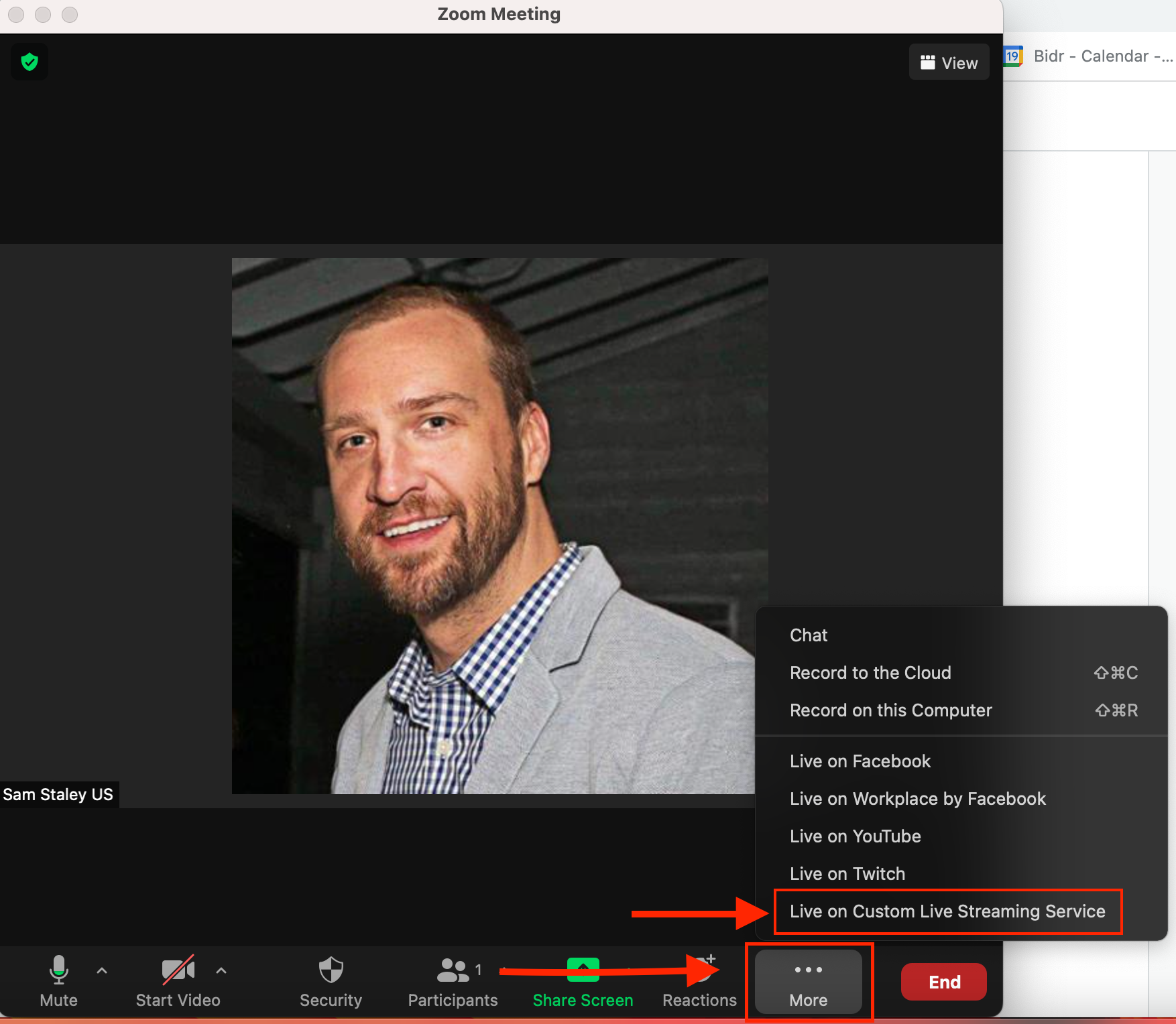 This will cause a pop-up of your website to open in another tab! Ex: https://event.gives/go&videomute=1

At this point, you can push your feed through the Event.Gives Manger Portal by pushing the gray "Go Live" button.
You can test your feed through the rehearsal site!
Webcam Connection
Most of our clients choose to connect a webcam because it is the quickest way to stream a live feed. When you are streaming with a webcam, you will want to ensure your speaker or live guest has a strong internet connection. There are two ways to connect a webcam:
Manager Portal Webcam Connection
Step 1: Log in to your manager portal and navigate to the items tab. Scroll down to video assets, until you see the red connect webcam button.
Step 2: Click on the red "Connect Webcam" button. This will pull up the webcam in a new tab within your web browser.
Step 3: There will be a field that asks you for your phone number. > It will text you a PIN. > You will name your stream and hit save.
The Front of Your Event.Gives Website
Step 1: Navigate to the landing page of your event site.
Step 2: Click the three vertical lines in the upper right-hand corner and select "Connect Webcam."
Step 3: You will then be prompted to name your stream, which will appear in the manager portal in order for it to be pushed live when the time comes.