Hey, First Time Fanatic - Let's learn about Event Settings!
In this article, we will focus on some of the things you can do on the 'Event Settings' tab, including the first steps in creating your event site.
Let's start with the basics: Event Details!
Keyword, Title, and Description
Your keyword will be the end of the URL for the event site. (Ex: If the keyword is "test," the event URL will be event.gives/test.
Your title will be the hero of your event landing page.
Your description will be on your event landing page as well and can include as many event details as you'd like.
Manager Portal View:
Attendee/Event Site View:
Background Image and Event Logo
For background and logo images, the file size must be 2MB or less. The ideal image size has 1920x1080 dimensions or a 16:9 aspect ratio.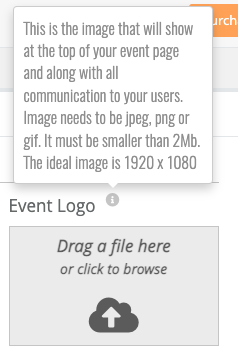 Date and Time
Dates and times are just for display purposes on your event site, your event will NOT automatically open/close at those times.
Manager Portal View:
Attendee/Event Site View:
Event Organizer Information
The main event organizer should be listed under "Organizer Information". This is the organizer that attendees will contact if they need assistance.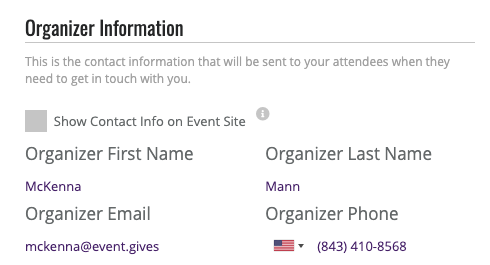 Add Additional Event Organizers/Administrators
Add as many additional event managers as needed to assist with setup, check-in, and check-out.
These managers will be given different levels of access to your event dashboard, depending if they are listed as Director, Supervisor, Owner, or Viewer.
Director - This level has the ability to grant Supervisor permissions and can only be obtained by making a purchase on the Manager Portal or directly from the Event.Gives team.

Supervisor - This level can only be granted by a Director. Supervisors can edit Attendee profiles and charge credit cards on the Manager Portal.

Owner - This level is the automatic designation of the event creator. Owners can write data, but not edit Attendee profiles nor charge credit cards on the Manager Portal.

Viewer - This level has read-only access and includes the ability to run reports. All managers will also require an email address.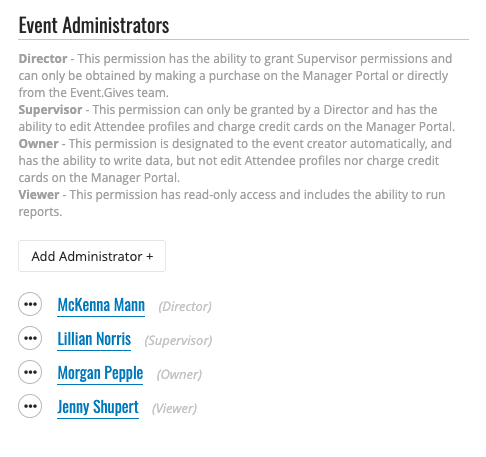 Social Media Accounts
Next, you will have the opportunity to enter your event organizer information and your organization's social media accounts. This allows for your event to be found on your organization's social media pages.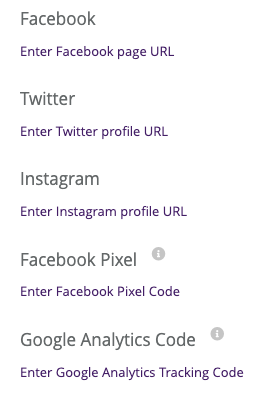 Share your event contact information and social media accounts with your attendees. These will be displayed as clickable icons next to the "Contact Organizer" link. Please see the below example, where Facebook and Instagram accounts were added.

Save Your Settings
To save your settings, select the blue "Update Event" button at the bottom of this section OR the blue "Save Changes" button in the right-hand corner of your window.
Now you're on the right track to event success! Whenever you make any changes to the event details, be sure to select one of these buttons in order to save.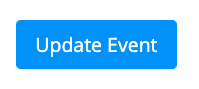 Event Messaging
The manager portal has many options for blast messaging under the "Event Messaging" tab. But, we will focus on the blast messages you can send on the "Event Settings" tab.