Let's learn about paddle numbers!
To raise money during your paddle raise, each attendee will need a paddle number. In this lesson, you will learn how to individually assign paddle numbers under the 'Check-In' tab or do it within the "Bulk Actions" feature.
Note: Paddle numbers can only be assigned to ticket holders attached to a profile (this does NOT include placeholders).
Individually assigning a Paddle Number to an assigned Ticket Holder
On the 'Check-In' tab, there is a list of all of your ticket holders. The ticket holder list displays the Name, Ticket Type, Purchaser, Paddle Number, Linked To, Table Name, etc.

Find the attendee's name. To the right, find the column titled "Paddle Number," then click "Assign." Enter the paddle number on the pop-up window, or press "Update" to automatically assign the next available paddle number.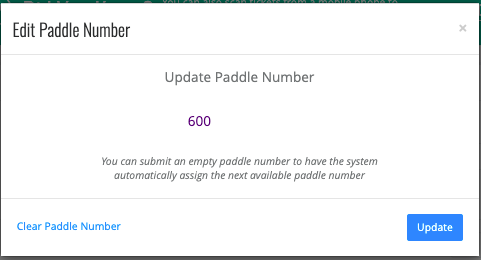 Individually assigning a Paddle Number to an unassigned Ticket Holder
When the ticket does not have a ticket holder attached to the event, assigning a paddle number is slightly different but still very intuitive. On the 'Event Check-In' tab, click "Add Attendee" or "Check-In" and a pop-up will lead you to complete the ticket.

The pop-up will prompt you to search for an existing profile. If they already have a profile, it will automate when you enter the phone number or email; if not, you will be prompted to create an account. Either way, assigning the paddle number will look the same. Once the ticket has been assigned, the "Assign" button in the "Paddle Number" column will appear in blue, allowing you to click and complete the paddle number information.
Bulk assigning Paddle Numbers
When you are bulk assigning paddle numbers, you will want to be at the top of the 'Check-In' page. There is a "Paddle Numbers" drop-down menu that will allow you to clear, assign, and/or print paddle numbers.