You can send a text or email message to the an attendee by clicking the text bubble icon next to their name. You can find this in four different places:
On Event Check-in if you have a ticketed event
On the donations tab if the person made a donation
On the items tab if they are winning an item the text bubble will appear below their name
If they bought a raffle ticket or fixed item click on the "tickets/items sold" number, then click the person's name and on the top of their user record will be a text bubble. DO NOT CHANGE INFORMATION INSIDE THEIR USER RECORD. Guests should make these changes themselves (ie new email, address etc).
Once you click the text bubble this window will appear: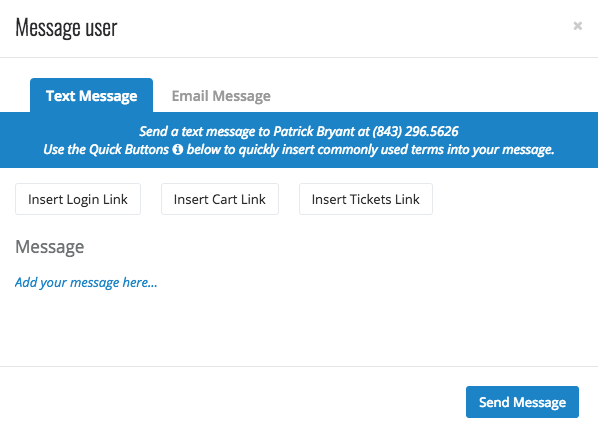 Choose Text or Email at the top. Type in a custom message. Be sure to tell the person not to respond to this email/text since it will go to the Event.Gives Bot. It's a good idea to give them an action: ie "come to the check-in table" or "Call Mary at 555-1212."
You can also use the pre-populated links to:
send the guest a magic link to automatically log them into your event (no password required!)
Send the link to their shopping cart
Send them their event tickets