Let's learn about blast messaging!
You can easily send out blast text messages to your attendees by navigating to the 'Event Messaging' tab within the manager portal OR blast email messages through the 'Attendees' tab.
Please note, blast messages can be sent with minimal punctuation and Event.Gives links only. Third-party links and more than one punctuation mark (ie: !!!) are not supported and therefore will not be delivered to your selected attendees.
To send a blast text message now or schedule one for later:
Navigate to the 'Event Messaging' tab.
Enter your message under "Blast Message."
Click "Send Now" to send the message now, or click "Send Later" to schedule to message to be sent at a later time.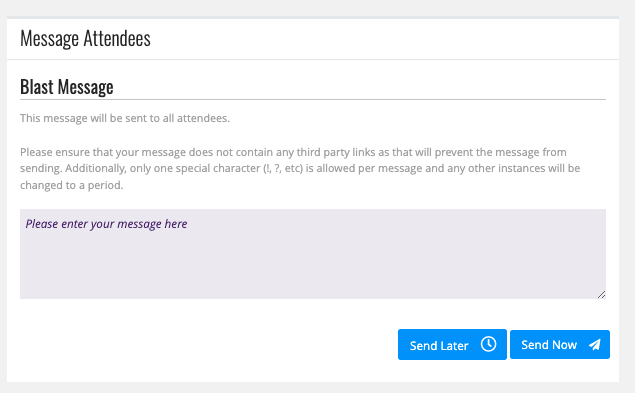 Blast messages sent from the 'Event Messaging' tab will be sent as text messages.
To send blast email messages, follow these steps.
From your manager portal, navigate to the 'Attendees' tab. Underneath the search bar click on the blue text that says "Load All Attendees."
Once all attendees have loaded, click on "Bulk Actions" in the top right corner. Click the "Select/ Deselect All Users" option to select all of your attendees.
Once the attendees are selected, you will see a blue check mark by each attendee. Click the "Bulk Actions" button again and select "Send Message."
You will see a pop-up window where you can send a text or email message. Click the "Email Message" option and write your message in the text box. Click the blue "Send Message" button when you are ready to send out your bulk message. You will be able to see the number of users your message is going out to underneath the "Email Message" button.
To learn more about messaging, check out our Messaging Mogul Master Badge.